I would like to briefly consider the alignment of truth with the current events where a spntaneous gesture of thanking the medical personnel turned into a political show. Yes, they save our lives, but what is happening on the ground besides clapping?
The Lie of 'clap for heroes'.
"…buying and using a disposable phone, finding and buying another truck, being lied to and manipulated from behind smiling faces and friendly voices, dealing with notaries and documents and overnight couriers, and all sorts of tiresome little activities.."

Jed McKenna
One phrase in what 'Jed' wrote above in relation to his truck adventure rings true. It especially rings true when one looks at the so called 'expression of gratitude' for the current battle of world health workers.
|| lied to and manipulated from behind smiling faces and friendly voices
Let me explain.
You've seen it on the news: clap (because we care), bang the drums, sing arias, whistle cheer tunes, and the surgically white, immaculately attired Alicia Keys playing the newly penned song of appreciation.
They care, right?
Use your common sense. Here is the Reality, but only if you care to know.
Firstly, what choice do our healthcare workers have, but to stick with the job? Here she/he was, a doctor or nurse, going about their daily duties when the virus madness struck. Does one take a pose and say 'Not gonna do it, too dangerous', as a result losing the job and any means of survival? I think not. Those of you who still have the job – there soon will be (or even now are) hundreds, maybe thousands, who will eagerly grab it from under your nose given half a chance. Think in terms of The Great Depression.

Secondly, the PRESSURE on those remaining to perform and give the last drop of effort is IMMENSE.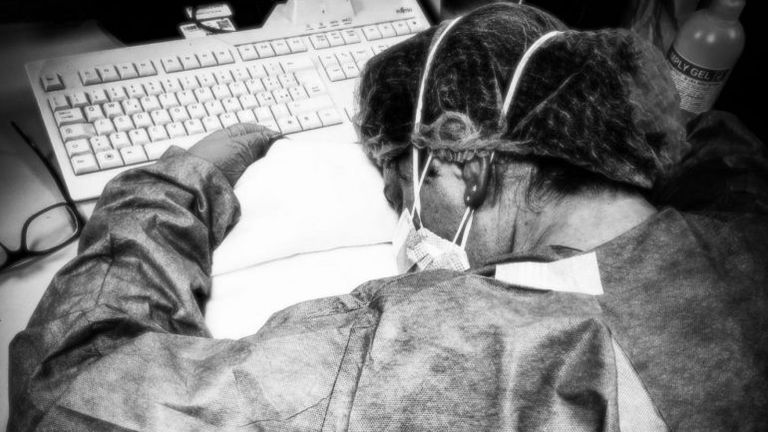 || I am afraid because the mask might not stick properly to the face, or I might have accidentally touched myself with dirty gloves, or maybe the lenses don't cover my eyes fully and something slipped by.

|| I am physically tired because the protective devices hurt, the lab coat makes me sweat and once I'm dressed I can no longer go to the bathroom or drink for six hours.

|| I am psychologically tired, like all my colleagues who have been in the same situation for weeks, but this won't stop us doing our job.
This was an Instagram post from an Italian nurse. Sure, the above will not stop one from doing their job. No job = no food. Yes, it sounds cynical, and I am sure some workers do feel a tingle from being so vitally important right now, but generally.. what bloody choice DO they have but to work until they drop? And for some – to die?
|| I can't afford the luxury of going back to a house under quarantine.
That's the gist of it. Very few of us can afford not to be employed. That includes you and I. So let's not wax lyrical on the heroism part. It is the necessity, not the heroism that makes people get up and go to the front line. In the same way as you could not get out of the front line for fear of being labelled a deserter and then executed in the World War II.

Next. Is applause what the front line workers need? I would be content without applause, but with no 12 hour shifts, with the strong protective gear, tight testing of all directly involved with the infected, with… oh ffs, who gives a shit about applause??

Next. To connect the above point to the next one: being squeezed by your superiors to the breaking point:
|| I was provided one mask; they said that's all I'm getting," said a certified nurse anesthetist in Akron, Ohio, who asked not to be identified for fear of reprisal.
The truth of the situation on the ground versus fear of reprisal and job loss. Now, this one applies to most who are still in work. You gotta do as you are told right now, no matter how deplorable or vomit inducing that might be, because no one is irreplaceable. Got it? And so people will comply, in fear of what might be a potentially ruinous loss of income for months, possibly years, to come. They have no choice really.

And yet.. we have sickly sweet promotion of 'goodness' and 'appreciation', and footballers delivering food packages to the needy, and CEOs 'giving up' most their salaries and all other corresponding bullshit that goes with sugarcoating the stark Reality: you are being screwed. Not by the covid-19, but by the people next to you. That CEO had a bonus of 3 million dollars last year, and even the cheapest premier league footballers get around 70K PER WEEK. They can afford to stay home. You – cannot.

If I exaggerated above, and your Reality is cozy, loving and totally fair – let me know. Let me know where it is happening, and I might join you in that paradise, away from the hypocrisy.

Oh.. and Alicia Keys. What a fabulous worldwide self-promotion and snatching a piece of history in the process. Bravo.
---
---